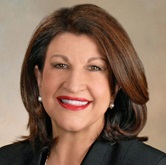 Bio
Kay Younglove is a thirty year veteran of the Atlanta commercial real estate industry, having successfully leased some of the city's most high profile office buildings, including One Atlantic Center, Regions Plaza and Three Ravinia Drive. She joined JLL in 2010, where she's been responsible for repositioning, marketing and leasing a 3.5 million-square-foot portfolio of urban and suburban assets, creating significant value for clients such as GE Capital, Wells Real Estate Funds, Oaktree Capital, Behringer Harvard, Hudson Advisors, TIER REIT, Banyan Street Capital, Investcorp, Crocker Partners, and Voya.
Prior to JLL, Younglove was VP of Colonial Properties Trust, and its predecessor, CRT Properties, where she was responsible for leasing a 1.7 million-square-foot, Class A office portfolio which included Regions Plaza, The Peachtree in Midtown, Three Ravinia Drive and 1455 Lincoln Parkway in Central Perimeter and The Park at Windward Concourse in North Fulton. She also oversaw marketing for a 3 million-square-foot portfolio, while increasing occupancy of the 805,000-square-foot, Three Ravinia from 49 percent to 95 percent. In 2007, Younglove closed 536,880 square feet of transactions, valued at $123 million and was named by NAIOP as The Top Producer for office leasing in the city.
Younglove previously served as SVP of Prentiss Properties, in charge of leasing and management in Atlanta. She was responsible for leasing One Atlantic Center, the 50-story Midtown landmark for owner Sumitomo Life Realty (NY), Inc, along with numerous other urban and suburban assets including 1117 Perimeter Center West.
In 2000, she closed over $90 million in transactions and was named for the fourth time in ten years as a top five producer for office leasing in Atlanta. Prior to Prentiss, Younglove leased Peachtree Center, the six-tower, 2.3 million-square-foot, multi-use complex in downtown Atlanta for five years. During the first eight years of her career, she leased suburban assets for Metro Atlanta Properties, oversaw leasing and management and personally closed an average of 52 leases per year.
Younglove is Vice Chair of the Board of Dekalb Perimeter Community Improvement District, and a past president, charter member and Hall of Fame inductee of CREW Atlanta, where she serves on the Past President's Advisory Council. Younglove is a licensed broker in Georgia and a graduate of Georgia State University. She has served on the Board of Midtown Alliance, Buckhead Christian Ministry and as Trustee of the Realtors Political Action Committee. She is an active member of NAIOP and a frequent speaker at industry events.