About The Atlanta Commercial Board of REALTORS®
History of the Atlanta Commercial Board of REALTORS®
Founded in 1910, originally as the Atlanta Real Estate Board, the Atlanta Commercial Board of REALTORS® has been an instrumental factor in the growth of organized real estate in Georgia for over a century
In 1910, eight Atlanta real estate men turned their weekly Piedmont Hotel "round table" into a formal organization known as the Atlanta Real Estate Board. They had been meeting now and then, and the year before, they had formed the Atlanta Real Estate Men's Exchange, a formal name for a very loosely organized group, which grew to thirteen in number by the time the Charter was found.
Today, the Atlanta Commercial Board of REALTORS® is one of the largest commercial REALTOR® associations in the nation with over 2,400 members. The ACBR is a professional trade association which exists to enhance the business opportunities of its members through access to pertinent real estate information, education, recognition, ethics, legislative advocacy and networking. The REALTOR® membership represents a cross section of the commercial real estate industry including brokers, appraisers, property managers, developers, owners and consultants. Another strong membership component, our Affiliate members include mortgage bankers, title companies, law firms, engineering companies, environmental consultants, and more.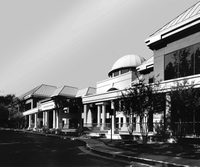 Thank you for your membership in the Atlanta Commercial Board of REALTORS®!
Membership in ACBR provides you a distinct competitive and educational advantage as a professional. Networking opportunities are provided through our Education Seminars, Million Dollar Club Banquet, Annual Fundraisers and Annual Business Meeting. Comprised of members in all areas of the industry, the Atlanta Commercial Board's long standing and highly respected presence in Atlanta gives you, the member, instant credibility as a REALTOR®.
In addition, the Atlanta Commercial Board of REALTORS® is a neutral place where we can all come together to discuss and brainstorm the many issues and challenges facing our industry in the 21st century. Simply stated, it is a place where we can not only build and develop good professional relationships, but also share our knowledge and expertise for the betterment of our real estate profession and the public we serve.
Our Vision
In an effort to fulfill its mission at the highest levels of excellence, the ACBR will strive to achieve the following goals.
ACBR Programs and Services - To be the first source for programs, products and services that will ensure members can provide the highest quality service, expertise, and support to their clients.
Communication and Outreach - To position the ACBR as the authoritative source for industry and market trends and information, and for expertise regarding community development issues. To position the commercial real estate industry as an essential contributor to the health and vitality of the community.
Advocacy and Influence Initiatives - To be the unified, influential voice for private property rights and for other issues that impact the commercial real estate industry and the betterment of the communities we serve.
ACBR Governance and Operations - To operate a growing, dynamic association with the staff and financial capacity and the active member and leader involvement necessary to fulfill the mission and vision.