Networking Event
PBOR | October Membership Meeting & Chili Cook- Off
Wednesday, October 11 | Creekside Golf & Country Club
11:00 AM - 2:00 PM
ABOUT EVENT
Please join us for the LAST MEMBERSHIP MEETING of the year!
On Wednesday, October 11th, the Paulding Board of REALTORS® will host our annual Chili Cook-Off and Annual Business Meeting. Join us for a sizzling and savory event that combines the best of both worlds – our annual business meeting and a mouthwatering Chili Cook-Off w/special guest Brad Mock, Senior Director of Governmental Affairs from GAR!
We are calling all culinary enthusiasts and chili connoisseurs! Our Chili Cook-Off is one of the highlights of the year. Members, their family, and friends are invited to showcase their culinary talents by preparing their signature chili recipes. From mild and hearty to spicy and bold, there's a chili for every palate. Whether you're competing or just savoring the flavors, this is a chance to indulge in a chili feast like no other and to contribute to the GAR Political Advocacy Fund.
Tickets for voting will be included in your entry fee, however, we will allow additional investments for additional voting tickets.
Enter the Chili Cook-Off here - https://forms.gle/wSU9j7bAGdWQ1QGf8
We will also hear from Brad Mock on the current political initiatives from GAR and give you insight on what's' to come for 2024 with the Paulding Board of REALTORS®
Mark your calendars, and be prepared to spice up your afternoon with us at the October Membership Meeting.
SPEAKERS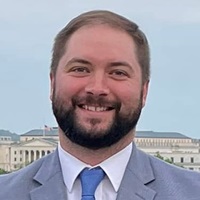 Brad Mock
Georgia Association of REALTORS®
Director of Governmental Affairs
Brad Mock joined the Georgia REALTORS® staff in 2014, and currently serves as the Director of Government Affairs. He is the State and Local REALTOR® Political Advisory Group staff liaison and oversees GAR's legislative and political affairs, campaign services and also serves as a lobbyist. He is also a member of NAR's Government Affairs Director Advisory Group.
Brad is a graduate of the University of West Georgia where he received both a Bachelors degree in Political Science and a Master of Public Administration. Brad is currently the University of West Georgia's Alumni Board of Directors Chair. He is a 2018 Zell Miller Foundation Leadership Institute graduate, and a two-time recipient of the "Rising Star" award from James magazine's Top Lobbyist Issue.
Creekside Golf & Country Club
591 Westchester Club Dr, Hiram, GA 30141, USA
(770) 445-7655